Welcome to the Garage Sale
This is Tara D., Age 12 performing "Boogie Woogie Boy" dance number
She Performs with "Dance Unlimited" of Phillipsburg, NJ

The bugle used is the (currently unavailable) Gunga Din bugle.



Needless to say, when selling these types of instruments, a few items of variable quality starts building up. This page will be used to sell items that can't or shouldn't be sold for new. Everything on this page is as is and described that best I can. They may be a return, dented, out of tune, etc and again read the description. Think about using these for craft projects such as making lamps or as an interesting wall display. Unless otherwise stated: EVERYTHING IN THE GARAGE IS AS-IS NO RETURNS CAVEAT EMPTOR ETC:
QUICK Index (Just Centennial Lacquered bugles at the moment)
From time to time we end up with Centennial bugles which are no longer new. It may (1) Have a scratch or acid bleed in lacquer (2) May have small ding (3) May have been returned for reason other than play quality (4) It may have been a return of the wrong horn shipped (5) It might of been one from an order canceled even before it reached its destination. (6) It might of been used for a local demo. (7) If Silver, may have small area of tarnish which will require a little polish. Will list seperately if anything more major. ALL ARE FULLY PLAYABLE WITH FULL PLAY QUALITY UNLESS MENTIONED OTHERWISE.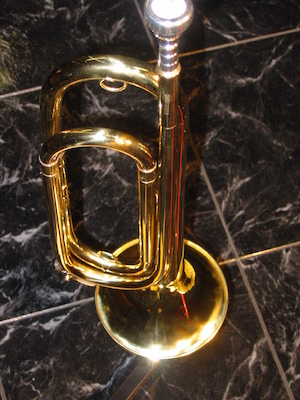 WISEMANN POCKET TRUMPET - A Factory 2nd!!!
. So you can save $100 on a brand new silver horn with some very hidden missed areas of plating. Doesn't change the way it plays. See below
Okay, here's a fun little novelty item. 1st off, a pocket trumpet IS NOT a piccolo trumpet which is pitched an octave above. This is a regular sized trumpet where the tubing is bent more so that it fits into a smaller size. There are several of these on the market. Most of them are cheap e-bay/generic specials. Those are cute, but the play is rather toyish. I had a generic one, but when I had a chance to play this Wisemann , I found out it was an order of magnitude better..bigger tubing, better valves, MUCH larger bell and greater playability approaching that of a regular trumpet. This is the large bell DPT-400, the Canadian Brass used to sell this horn on their website. I found this horn great for travel being able to place it in the "carry on luggage" (With the commuters you checked it at plane side). Okay, I once had to entertain the TSA agents who just HAD to see what popped up on their x-ray! It does have pack straps so it's great for the bicyclist, scuba diver, or sky diver (okay maybe just the cyclist).
Even though this item is in the garage sale you can return less shipping and 20% restocking fee. 7 day evaluation.
Here's the specs:
| | |
| --- | --- |
| | DPT-400 Bb Pocket Trumpet |
| | Bb Pocket trumpet |
| | Bell 123mm, bore 11.65mm (4.84" Bell, .459 bore size - Both well within standard trumpet specs) |
| | Brass lacquered finish (We also have Silver) |
| | Stainless steel piston valves |
| | Canvas case (A FANTASTIC and SOLID CASE) |
| | Includes Trumpet Mouthpiece and cleaning cloth. |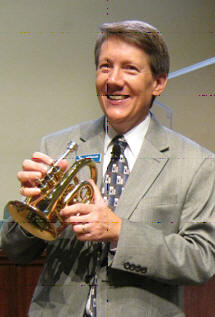 "I'm very pleased with my purchase of the Wisemann pocket trumpet. It's a great little instrument. I understand why some of the pros buy these for practicing while on vacation; I'll easily be able to take it with me when traveling. While I'll play for the joy of it, I'm aiming to get good enough to sit in with my church's praise band sometime. As a once-upon-a-time french horn player, I'm enjoying the challenge!" [ Jeff bought the horn pictured above which is a garage item]
Jeff Bennett
Ponte Vedra Beach, FL
The Centennialtm Bugle is a Trademark of Scoutbugle.com