Custom Bugles and Brass Repair Services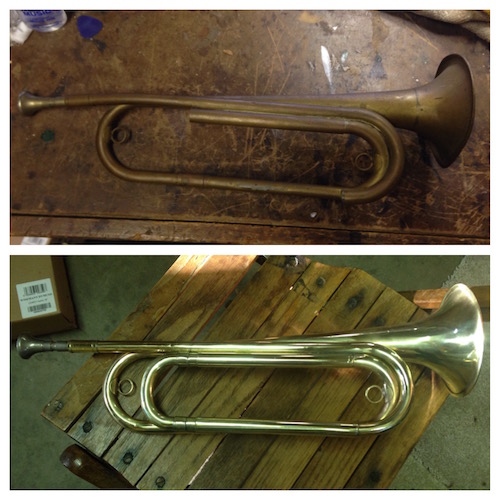 Looking for that special one of a kind bugle? Then you've come to the right place. Scoutbugle.com has teamed up with Master Brass Artist D. Kevin Powers to create that one of a kind bugle for any special occasion. Are you looking to take one of our base bugles and have it engraved, plated with silver or gold? How about make a bugle in a special key, make with heavy bracing, or whimsical artistic design? Then Mr. Power's has you covered.
Do you have an antique bugle, or any brass instrument, an heirloom you would like to have overhauled and returned to near original condition? Then contact Kevin.
Horns might be based on one of our existing horns, a used donor horn, and or custom made from scratch as needed.
Please include as many pictures and measurements as possible. Remember, a "simple clean-up" usually starts at $75.
Since your project is unique, contact us with what you're thinking, your price range and time frame.
We also offer complete overhaul services for your antique or well used brass instrument. Trumpet overhauls/restorations start at $450...but everything from Trumpets to Tubas are well within capacity.
Our standard estimate for a bugle overhaul is $250, which would include silver plating or Lacquer. Raw brass would be somewhat less.
All repair work is done in Kevin Power's shop in Monroe, Michigan. He's the go to man for many in the brass section of the Detroit Symphony and professional musicians in Southeast Michigan and Northwest Ohio.
Contact Kevin for more information (info@mmis.us)
Just Like Magic Click for a more detailed view of this before and after.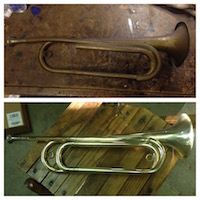 We offer complete brass instrument repair of trumpets, repair of bugles, repair of cornets, repair of French Horns, repair of flugelhorns, repair of trombones, repair of tubas, restoration of trumpets, restoration of bugles, restoration of cornets, restorations of french horns, restorations of flugelhorns, restorations of trombones, restorations of tubas, along with custom made bugles. Replacement of Digital Bugles. Repair of Digital bugles.
Copyright www.ScoutBugle.com 2004-2016