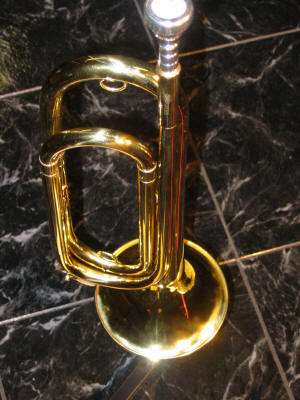 by
Scoutbugle.com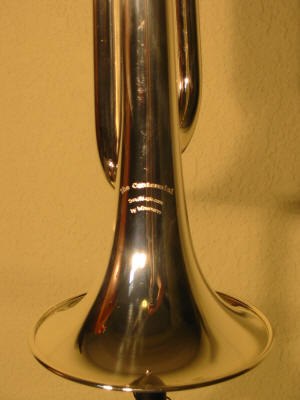 Named to honor the 100th anniversary of the Boy Scouts of America the Centennial Bugle was built for musical excellence, ease of play, and pride of ownership. We started with the traditional Boy Scout Bugle (Specified by the US ARMY in 1892) as the starting point in our design. Our brass instrument expert designer then asked a simple question: "If I have a choice between playability and tradition, what do you want?" The answer, we tried to make this the most playable bugle on the market. Huge tone with a rapidly expanding bell throw, relative ease of play for the starting player, and just darn good to look at. Excellent intonation, project, tactile feel, and first class quality, but with a relatively simple design that allows us to sell it at a great price. You will not be disappointed with the Centennial bugle, exclusive to Scoutbugle.com.
See this recent e-mail exchange with a new customer!
Thinking of buying a "cheap bugle" Read here!
Features:
| | |
| --- | --- |
| | Plays in the key of G assisting the beginning player hit the higher notes then a typical B-flat instrument. While the traditional Boy Scout bugle is listed as a "G/F" bugle. In reality the "F" is available by pulling the tuning slide WAY out. This makes for a very squirrelly instrument with poor intonation. We've included the extra long tuning slide, but since in reality the bugle plays best in "G" that's how we market it and recommend it be used. There are many who feel the lower pitch of the "G" bugle sounds more appropriate for the playing of "TAPS" even asking trumpet players to drop their pitch by pressing down valves 1 and 2. |
| | Has great playability for the beginning player, resonates easily. Not to say it won't take practice to learn, it just takes a bit less work to play. |
| | Trumpet mouthpiece receiver. The traditional Boy Scout bugle often takes a cornet mouthpiece or a special mouthpiece, we made sure ours was designed to use the same mouthpiece the scout is most likely to use in their school instrument, which would be a trumpet. |
| | Large throat and bell makes for a large sound, more of a cornet characteristic. Designed to play taps richly, and take the edge off of "To the Colors." For an example you see in the left a physical comparison of bells to the Kanstul Regulation Bugle. It looks like Kanstul used the same bell as their CHICAGO line of trumpets which tend to have a rather bright sound. You can see the sharp radius on top with a very thin bell waiting until the very end to flare out. Compared to the fatter, cornet flare out of the Centennial bugle. The Kanstul plays with quite a bit of edge to it's tone, more "trumpety" if you will, while the Centennial has a fuller, less edgy "Bugly" tone. In practice the Centennial plays a haunting TAPS and helps take the edge off of a round of "To The Colors." Especially helpful for someone like me with a lot of edge in their tone to begin with. If you want that brighter tone then the Amati, Brigadier or Kanstul might be more along what you would want. |
| | Size: 17 1/4" inches long weighing 16.6oz without the mouthpiece, and 20 oz with mouthpiece. |
| | The bore size is a trumpet standard .460 |
| | Available with a solid case with backpack straps offering great protection with ease of transportation. |
| | Comes with a trumpet "7C" style mouthpiece. Since it uses a trumpet mouthpiece, it can be replaced quickly at any music store, or used with the players current MP. |
| | Made by Wisemann for Scoutbugle.com |
| | In the Key of G (though can go lower with the extra long tuning slide, but plays best as a G bugle) |
| | Play quality, construction, case and looks are superior to many lower end bugles. |
For shipping outside the US Click Here
This is actually a SILVER bugle in all the five pictures below. Lesson learned, don't shoot a silver bugle against an orange background, because it comes out looking like a lacquered horn
Need Extra Mouthpiece? Click Here
Example of Lightweight Case (Note: There may be embroidery on the case that does not match the name of the horn inside)

Example of Gig Bag:
Please send comments, etc to: support
Copyright www.ScoutBugle.com 2004-2016
Scoutbugle.com has no formal relationship with the Boy Scouts of America
The Centennialtm Bugle is a Trademark of Scoutbugle.com