The Arlington
by
Scoutbugle.com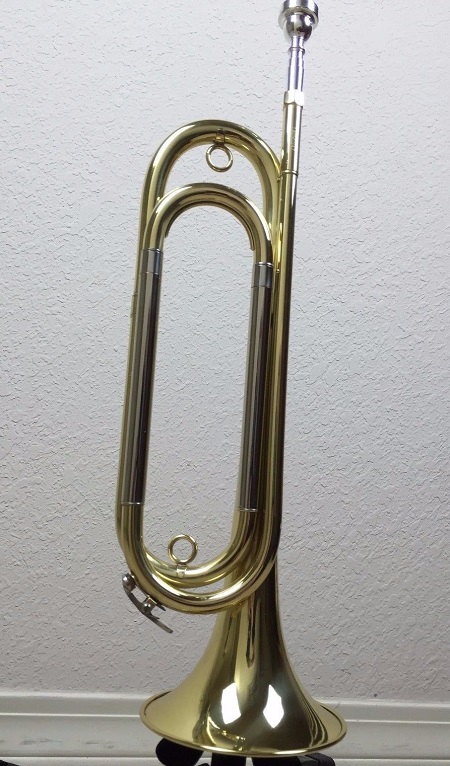 Our new Arlington bugle takes the great feartures of our Kevin Power designed Centennial bugle and adds some extra "pizazz." FUNCTIONALLY there is minimal difference between instruments, however a few features were added to make this extra special for a gift or those wanting a more interesting horn. We've added chrome plated tuning slide supports which adds a bit of weight and support along with great looks. We've added a Hex receiver, similar to the Bach Stradivarius trumpet. This appears to seat the mouthpiece better while, in the rare case a mouthpiece gets stuck, giving more of a "bite" to the mouthpiece puller. The case has been upgraded with a larger zipper, a smaller overall shape and thicker padding.
We'll only be selling this as a case based package.
Features:
Plays in the key of G assisting the beginning player hit the higher notes then a typical B-flat instrument. While the traditional Boy Scout bugle is listed as a "G/F" bugle. In reality the "F" is available by pulling the tuning slide WAY out. This makes for a very squirrelly instrument with poor intonation. We've included the extra long tuning slide, but since in reality the bugle plays best in "G" that's how we market it and recommend it be used. There are many who feel the lower pitch of the "G" bugle sounds more appropriate for the playing of "TAPS" even asking trumpet players to drop their pitch by pressing down valves 1 and 2.

Has great playability for the beginning player, resonates easily. Not to say it won't take practice to learn, it just takes a bit less work to play.

Trumpet mouthpiece receiver. The traditional Boy Scout bugle often takes a cornet mouthpiece or a special mouthpiece, we made sure ours was designed to use the same mouthpiece the scout is most likely to use in their school instrument, which would be a trumpet.

(Picture shows the Centennial Bugle) Large throat and bell makes for a large sound, more of a cornet characteristic. Designed to play taps richly, and take the edge off of "To the Colors." For an example you see in the left a physical comparison of bells to the Kanstul Regulation Bugle. It looks like Kanstul used the same bell as their CHICAGO line of trumpets which tend to have a rather bright sound. You can see the sharp radius on top with a very thin bell waiting until the very end to flare out. Compared to the fatter, cornet flare out of the Centennial bugle. The Kanstul plays with quite a bit of edge to it's tone, more "trumpety" if you will, while the Centennial has a fuller, less edgy "Bugly" tone. In practice the Centennial plays a haunting TAPS and helps take the edge off of a round of "To The Colors." Especially helpful for someone like me with a lot of edge in their tone to begin with (such as myself).

Chorme plated tuning slide supports adds color and flare to the horn along with extra protection.

Hex Mouthpiece receiver adds extra stabilization along with more area to "bite" in case the mouthpiece needs to be removed due to getting "stuck" (your local music store should help remove for free or a few dollars. Remember to always remove the mouthpiece after use and never hit the mouthpiece into the horn to seat).

Shipped in Lacquered coating only, no reason to chrome plate and than cover with silver.

Shipped with Case, Mouthpiece and Horn


Size: 17 1/4" inches long weighing 16.6oz without the mouthpiece, and 20 oz with mouthpiece.

The bore size is a trumpet standard .460

Available with a solid lightweight case with backpack straps offering great protection with ease of transportation.

Comes with a trumpet "7C" style mouthpiece. Since it uses a trumpet mouthpiece, it can be replaced quickly at any music store, or used with the players current MP.

Made by Wisemann for Scoutbugle.com

In the Key of G (though can go lower with the extra long tuning slide, but plays best as a G bugle)

Play quality, construction, and case combination can hold up against any quality bugle on the market.
Please send comments, etc to: support
Copyright www.ScoutBugle.com 2004-2016
Scoutbugle.com has no formal relationship with the Boy Scouts of America
The Centennialtm Bugle is a Trademark of Scoutbugle.com